What would you love to see on your walls?
What's special for you?  A beautiful cottage, a unique cat or perhaps you want to capture a moment in time, a place, a milestone, a landscape?  Commissioned art work, created for you by Darren, is always original, always unique.
It's an opportunity to put love on your walls. A commissioned watercolour painting makes for a special thoughtful gift for a loved one, a friend or a celebration.
 => Enquire About Your Commissioned Artwork
Occasions For Your Commissioned Painting: Celebrating Place
Individuals from all walks of life have commissioned Darren to work on their treasured places.  House portraits are esspecially popular.  Darren was asked to capture the beautiful Castletown Wier before work began on digging up the river bed forever changing the landscape.
What memory of place would you like to bring indoors?
Etnas cottage (commissioned)
Croneybyrne (commissioned)
The Station House (commissioned)
"We have the painting hanging and I cannot pass it without marvelling at your talent.  It is so life like.
I was even standing yesterday at the real thing and admiring your flow of the storm water that comes down the side of the salmon-run. We love that river and now, your painting.
Thanks again."
S&C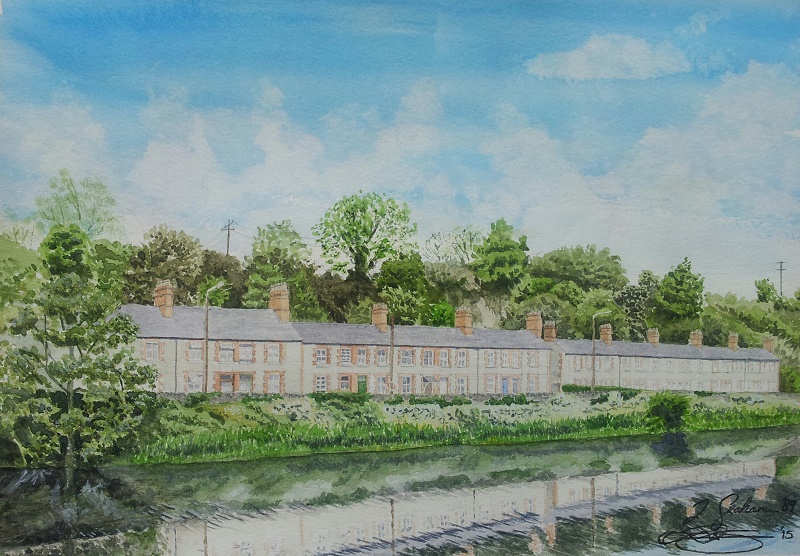 Lucan Weir, County Dublin, Ireland (commission)
Occasions For Your Commissioned Painting: Celebrating Memories
For Christmas, wedding presents, retirement gifts and special birthdays a custom piece of art makes an individual memory.  Teams may wishing to celebrate a colleague's service to the business or an important milestone are also welcome.
Watercolour paintings capture a moment in time. A memory to hold and cherish in future years.
The Process From Idea To Your Own Painting
It starts with an idea. Your idea.  Perhaps one of Darren's previous commissions has piqued your interest.  Visiting Darren at an exhibition can be a great way to get a sense of his detailed fine art realistic style.
The typical next step is a photo.
Tips:
find something from Darren's work that you love.
find something you're less crazy about. This is helpful!
consider what moment you'd like to capture.
think about how the artwork be seen; is it across a room or close up?
call Darren to explore how you might approach the project
 => See Where Darren is Exhibiting
Grazing at Gortnaclea Progress 2
Grazing at Gortnaclea Progress
Detail Of Grazing at Gortnaclea In Progress
Grazing at Gortnaclea
Following discussions with you, Darren first artfully translates your photography or idea into a pencil drawing on cotton paper.   Then this is carefully painted with artist quality watercolours resulting in a beautiful personal work of art.
Some clients like to see the gradual build up of their picture.
Here's an example of how a painting develops; from inspiration, through detailed line drawing, through gradual application of carefully choosen watercolours, to the final artwork.
Brittany House, France. Photo Inspiration For A Painting Of The Same Name
Brittany House In Progress 2 (Original Sold)
Brittany House In Progress 3 (Original Sold)
Brittany House (Original Sold)
---
Watercolour Commission Sizes
Darren typical uses one of four sizes of 140 lbs cold pressed paper to create your original artwork.  If you're looking for something else, he also caters to individual needs.
Extra large 20″ x 16″
Large 14″ x 10″
Medium 12″ x 9″
Small 7 x 5″
---
 Commissioned Watercolour Painting Prices
Prices range from €150 – €3000.  Smaller artwork is typically less expensive.
With your idea for the painting and with Darren's thoughtful guidance, you'll settled on a subject, size and context for the piece.  It's important to agree when you'd like the piece.
Once agreed, you'll pay a percentage of the full cost before work starts.
 => Enquire About Your Commissioned Artwork
Celebrating Friendship With Art
"I think this work needs a bit of explanation.

The guy who owns the little hand on the left has been my friend since he was 3 years old.
… we fish together, go bowling and just hang out.  He is 10 now and touching thumbs has always been the way we say hello and goodbye to each other.

I asked Darren to try and capture the emotion and the very special significance of this simple little gesture of friendship, and he has done it to perfection. "

Alan Aston
Get Started With Your Commissioned Painting
Call 086 6038090 or email hello@ephraimartstudio.com with your idea or photo. There's no obligation and Darren welcomes your questions.
Put love on your walls.
 => Enquire About Your Commissioned Artwork
=>Buy Original Watercolours By Darren